Analysis Paralysis
An animated short film by Anete Melece
9 Min. | digital cut-out, drawing on paper | DCP
© 2016 VIRAGE FILM | in co-production with
SRF Schweizer Radio und Fernsehen | SRG SSR
Anton is lost in his own head until one day a yellow boot brings him to an exit.
go to Viemo on Demand - Stream & Download.

World Sales & Distribution: interfilm Berlin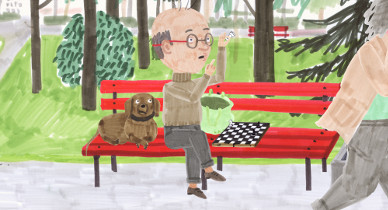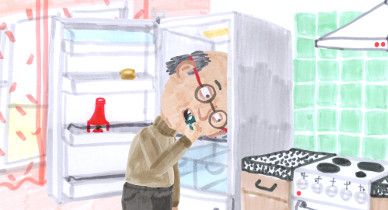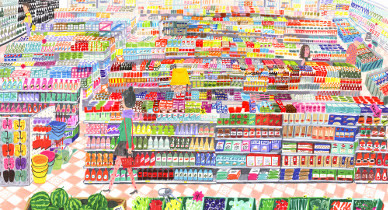 Anton's head is bursting with thoughts. The gardener is seething with anger: who has trampled her flower beds?
In the park Anton is looking for someone to play chess with. For someone who plays a better game than his dachshund. The gardner is looking for a mysterious vandal who has lost a yellow boot. But perhaps they are both looking for the same?
Anton platzt fast der Kopf vor lauter Denken. Der Gärtnerin platzt fast der Kragen vor lauter Ärger. Im Park sucht Anton jemanden zum Schachspielen. Jemanden, der besser spielt als sein Dackel. Die Gärtnerin sucht einen rätselhaften Vandalen, dem ein gelber Stiefel fehlt. Aber vielleicht suchen ja beide das Gleiche?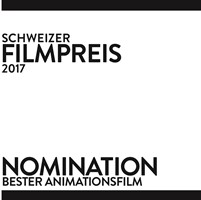 Awards
Encounters Short Film & Animation Festival 2016 | Bristol, UK
Animated Grand Prix Award 2016
Fantoche International Animation Film Festival, Baden, Switzerland
Audience Award Swiss Competition
Fantoche International Animation Film Festival, Baden, Switzerland
Swiss High Risk Award 2016
Solothurner Filmtage, CH
Solothurn, Solothurner Filmtage, Prix du Public SSA/Suissimage - 1er Prix 2017

Stockholm Experimental & Animation Film Festival
Audience Award 2017
Animalada, Sevilla, Spain
Audience Award 2016

Athens Animfest, Athens Greece
Special Mention 2017

Kolkata Shorts International Film Festival
Special Mention 2017
BALKANIMA - European Animated Film Festival, Belgrad, Serbia
Special Mention 2016
Silhouette Festival, Paris
JP3 audience's Award
Festivals
waldstock Festival, Steinhausen
2 August 2018
Hiroshima International Animation Festival, Japan
23-27 August 2018
Best of the World
GLAS Animation Festival
Berkeley, California
22-25 March 2018
Primanima World Festival of First Animations, Budaörs, Hungary
25 – 29 October 17
International Competition
Best of Short Films Festival, La Ciotat France
18 – 21 October 17

Lviv International Short Film Festival Wiz-Art,
11 - 15 October 17

Sedicicorto International Film Festival, Forli, Italy
6 – 15 October 17

1st Hancheng International Short Film Festival (China),
1 – 8 October

2017 Milwaukee Film Festival (USA), 28 September – 12 October 17

Lille Int. Short Film Festival
(Night of Animations screening)
23 September 17

FESTCURTASBH Belo Horizonte Int. Short Film Festival,
29 September – 9 October 17 (Children's Exhibition)

Festival de Cinéma de la Ville de Québec, 13 - 23 September 17

KROK int. Animated Film Festival (Russia), 13 – 21 September 17

World Festival of Animated Film Varna (Bulgaria),
13 – 17 September 17

9th Seoul int. Extreme-Short Image & Film Festival,
12 - 17 September 17

Shorts Mexico,
6 - 13 September 17

2nd Istanbul Comics & Art Festival
8 – 11 September 17

Silhouette Festival, Paris
25 August – 2 September 17
Competition

Câmpulung Film Fest, Romania,
25 – 27 August 2017
Competition

Guanajuato International Film Festival, Mexico
21 – 30 July 2017
Competiton

Kolkata Shorts International Film Festival (India), 23 July 2017

Insomnia International Animation Film Festival, Moscow/Kaluga,
13 – 17July 2017
International Competition

Stockholm Experimental & Animation Film Festival
18 June 2017
Competition
World Festival of Animated Film - ANIMAFEST ZAGREB
5 - 10 June 2017
Zagreb, Croatia
Northwest Animation Festival
Portland, Oregon USA
10 - 14 May 2017
Cardiff Independent Film Festival (UK), 5 -7 May 2017
Animation Competition
ANIFILM International Festival of Animated Films, Trebon, CZ
2 - 7 May 2017
International Competition
Ismailia International Film Festival
Egypt ,19 - 25 April 2017
Competition
Flatpack Film Festival
4 -9 April 2017
Competition
Friss Hús Budapest International Short Film Festival
Hungary, 29 March - 2 April 17
International Competition
Athens Animfest, Athens Greece
16 - 22 March 17
Competition
Go Short, Nijmegen
the Netherlands, 5 - 9 April 17
European Competition
Be there! Corfu Animation Festival Greece, 29 March – 2 April 17
Animated Shorts Competition
Ciné Court Animé
Roanne, France 20 - 26 March 17
International Competition
New York Children Film Festival
24 February - 19 March 2017
Competition
Erarta MOTION PICTURES
Saint-Petersburg
26 - 29 March 2017
Competition
Tricky Women International Animation Filmfestival
15 - 19 March 2017
Special Screening
ANIMA Brussels, Belgium
24 Feb - 5 March 2017
International Competition - Shorts - Professionals Films
Portland International Film Festival
9 - 25 February, 2017
PIFF XL: Short Cuts
Solothurner Filmtage, CH
21.01. 09:30 Canva
21.01. 14:15 Reithalle
23.01. 12:45 Canva
23.01. 21:00 Canva
Ciné Junior Festival, France
25 Jan - 7 Feb 2017
Short Film Competiton
Minimalen Short Film Festival, Trondheim, Norway
25 - 29 January 2017
International Competiton
Piccolo Festival Animazione Pordenone, Italy,
12 – 29 December 2017
animakids
Animateka - Int. Animated Film Festival, Ljubljana Slovenija
5 - 11 December 2016
Main Competition
ANILOGUE International Animation Festival, Budapest, Hungary
23 - 27 November 2016
Official Selection
Animalada, Sevilla, Spain
26 November 2016
Finalist of the Animalada III Animation Short Film Contest
Animated Dreams - International Animation Film Festival
16 - 20 November 2016
International Competition
Manchester Animation Festival, UK
16 November 2016
Skwigly Screening

interfilm 32nd International Short Film Festival
14 - 20 November 2016
international Competition
CINANIMA - Festival Internacional de Cinema de Animação
7-13 November 16
International Competition
ALCINE - Festival de Cine de Alcalá de Henares, Spain
4-11 November 16

Uppsala International Short Film
Festival, Sweden
24-30 October 16
International Competition
SHORT RIGA 2016, Latvia
20-23 October 16
International Competition
Les Enfants Terribles, Huy, Belgium
20-23 October 16
Short Film Competition
Animatou, the International Animation Film Festival, Geneva, Switzerland
6-15 October 16
International Competition for Young Audiences &
Swiss Competition
BALKANIMA - European Animated Film Festival, Belgrad, Serbia
4-8 October 16
International Competition
Encounters Short Film & Animation Festival | Bristol, UK
20-25 September 16
Competition

Fantoche International Animation Film Festival, Baden, Switzerland
6-11 September 16
International Competition &
Swiss Competition
** Swiss Premiere **

Turku Animated Film Festival, Finland
25-28 August 16
** World Premiere **