Duodrom
Ein Animationskurzfilm von Basil Vogt
8 Min. | Zeichentrick
© VIRAGE FILM | in Koproduktion mit
SRF Schweizer Radio und Fernsehen | SRG SSR
Synopsis:
We all have two sides. But if even the tiniest scare splits someone into a timid skin on the one hand and an overconfident skeleton on the other, that person has a lot of work ahead to bring their characteristics back into harmony again.
Synopsis German / Synopsis French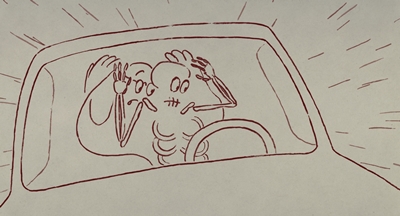 © Virage Film
Synopsis Deutsch
Wir alle haben zwei Seiten. Doch wenn einer beim kleinsten Schreck in eine schüchterne Haut und ein übermütiges Skelett zerfällt, muss er sich schon ins Zeug legen, um seine Charaktereigenschaften wieder in Einklang zu bringen.
Synopsis French
Nous avons tous deux côtés. Mais si même la plus petite frayeur divise quelqu'un en une peau timide d'une part et un squelette trop confiant d'autre part, cette personne a beaucoup de travail devant elle pour ramener ses caractéristiques à l'harmonie.
Festivals
TAFF, Turku, Finnland
21. -25.08.19
Junior Competition

Gässli Filmfestival, Basel, CH
26.08.-01.09.19
Best Swiss Short Film Competition

Fantoche, Baden, Switzerland
03. -08.09.19
Swiss Competition

WFAF -World Festival of Animated Film, Varna Bulgaria 11.-15.09.2019
Panorama "Best of the World"

Krok Filmfestival, Kiev, Moskau UKR/RU
22. -30.09.2019
Competition
TIFF Tirana International Film Festival
23 - 29.09.2019
Animation Film Competition.